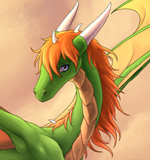 I wish only to observe and to learn, should the need arise, I wish to teach and to aid, I wish to take comfort in the words and presence of those whom are like me,

In that despite our distances and differences in life, we all have one thing in common, a connection to that majestic entity, the Dragon!


Dragon Wars D-War

Info Source: http://www.imdb.com/title/tt0372873/

Movie Trailer: http://www.youtube.com/watch?v=LbF4DtgO_yY

Description: "In accordance with a Korean legend, every five hundred years, a woman protected by a man transforms in a serpent to fight against a dragon in a battle between good and evil. In Los Angeles of the present days, after a mysterious accident, the reporter Ethan Kendrick recalls his meeting fifteen years ago with Jack, who owned an antique shop and told him that he was the one supposed to protect Sarah Daniels. Ethan seeks out Sarah and together they fight to survive and destroy the devilish dragon."
Added: July 25th 2012
Reviewer: Jafira
Score:




Related Link: Wiki-Article
Hits: 497
Language:


[ Back to Reviews Index | Post Comment ]