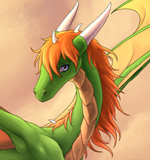 I wish only to observe and to learn, should the need arise, I wish to teach and to aid, I wish to take comfort in the words and presence of those whom are like me,

In that despite our distances and differences in life, we all have one thing in common, a connection to that majestic entity, the Dragon!


Dragon Heart: A New Beginning

Info Source: http://www.imdb.com/title/tt0214641/

Movie Trailer: http://www.youtube.com/watch?v=NghvaMdUbVY

Description: "When Geoff, an orphaned stable boy (Chris Masterson), discovers Drake (voice of Robby Benson), the world's last living dragon, he realizes that his dream of becoming a knight in shining armor can now come true. Together, they soon face challenges that turn them into heroes. But caught up in the excitement of their new lives, Geoff and Drake fail to see the hidden dangers that surround them"
Added: July 25th 2012
Reviewer: Jafira
Score:





Related Link: Wiki-Article
Hits: 559
Language:


[ Back to Reviews Index | Post Comment ]