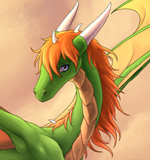 I wish only to observe and to learn, should the need arise, I wish to teach and to aid, I wish to take comfort in the words and presence of those whom are like me,

In that despite our distances and differences in life, we all have one thing in common, a connection to that majestic entity, the Dragon!


Tales From Earthsea

Info Source: http://www.imdb.com/title/tt0495596/

Movie Trailer: http://www.youtube.com/watch?v=5igcvnS9Hho

Description: "Something bizarre has come over the land. The kingdom is deteriorating. People are beginning to act strange... What's even more strange is that people are beginning to see dragons, which shouldn't enter the world of humans. Due to all these bizarre events, Ged, a wandering wizard, is investigating the cause. During his journey, he meets Prince Arren, a young distraught teenage boy. While Arren may look like a shy young teen, he has a severe dark side, which grants him strength, hatred, ruthlessness and has no mercy, especially when it comes to protecting Teru. For the witch Kumo this is a perfect opportunity. She can use the boy's "fears" against the very one who would help him, Ged. Written by Anime News Network"
Added: July 25th 2012
Reviewer: Jafira
Score:






Related Link: Wiki-Article
Hits: 15619
Language:


[ Back to Reviews Index | Post Comment ]